In my opinion, one of the most overused words in the software industry is 'innovation'. I understand there is a wide spectrum of enhancements that can be called 'innovations' – minor enhancement that improves a business process to a module that supports a new business process to a new application that is disruptive. Here is what I have observed in software product companies that create business solutions for a large customer base – anything other than their customer support issues is called an innovation. These 'innovations' require new funding approvals within the product organization – usually supported by robust prioritization processes aligned to strategic themes. All these innovations are expected to represent 'value' for the customer and are expected to drive software subscription and license-based revenue.
I started wondering 'How would a customer of such a business software perceive value or innovation?'. In general, value is defined as some feature that solves a business problem for a user. That is a meaningful definition from a user perspective. What if I wear a CIO hat? I recalled my days as the head of an IT function a few years back. Although times have changed quite a bit since then, I believe, fundamentals of IT spend decisions have not changed. Here is a perspective on how Business-IT steering committee would look at the spend: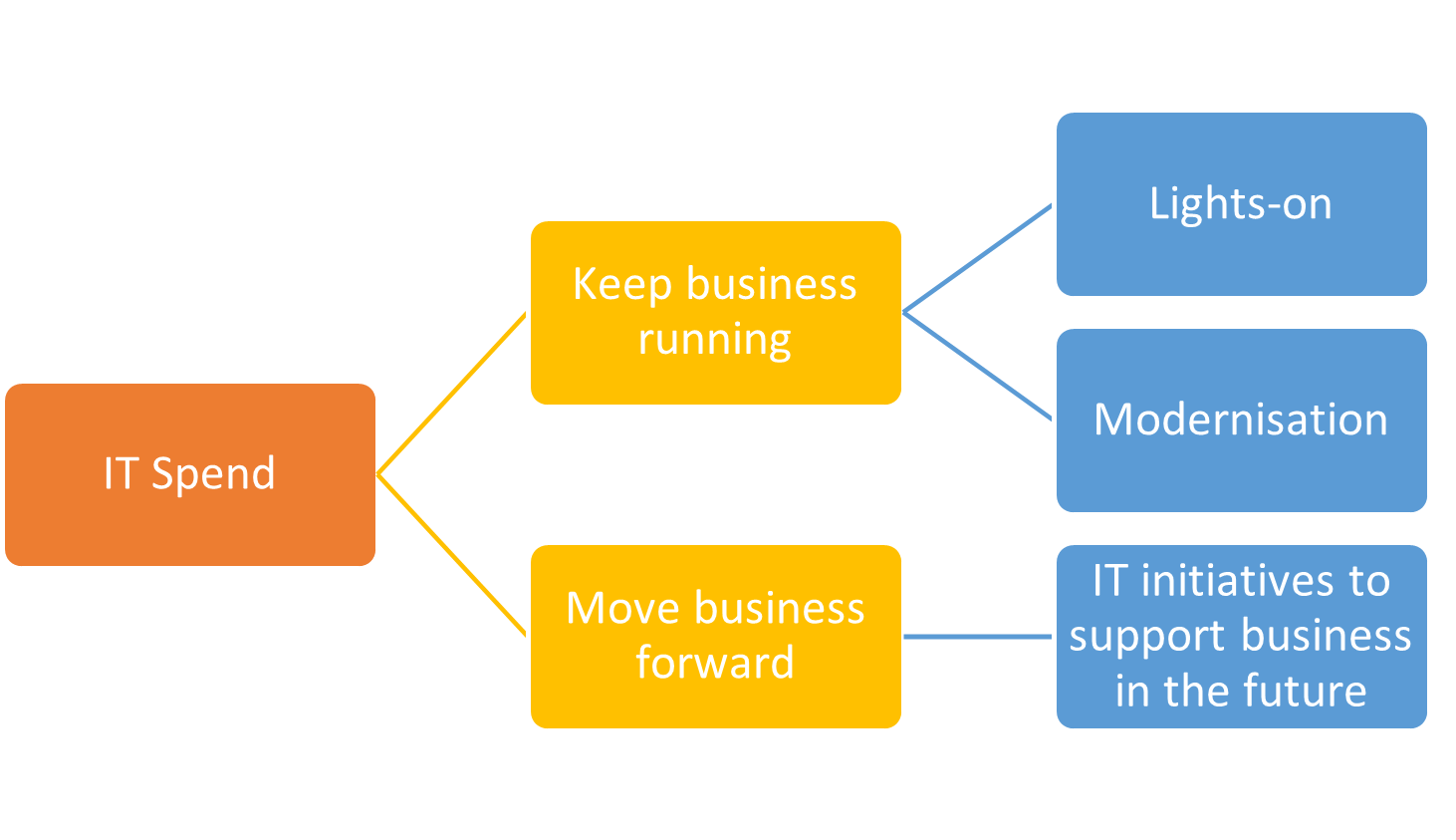 Most businesses would like to minimize the cost of keeping the business running and spend more on moving the business forward. Software product license renewals are typically part of 'keeping the business running'. New solutions that would help businesses compete and win in the future would fall into the category of 'Move business forward'. I would call these real 'Innovations'.
This perspective gives a business software product vendor a new way of looking at their innovations:
Changes that would reduce the cost of running the business – i.e., cost of ownership
Changes that would help customers to move their business forward (Innovative trends)
Value = Reduction in cost of ownership + Business potential of innovative trends
Product Management function in software product organizations is often tasked with formulating the product strategy and managing the backlog. To reduce cost of ownership, Product Managers need a deep understanding customer's IT operational cost structure as well as business usage patterns. To identify innovation opportunities, they need a deep understanding of business trends in customer's domain as well as technology trends that could be disruptive. Today's backlog itself should be split into broadly two categories: ToC Backlog and Trend Log (trends in customer's business). At a strategic level, leadership can decide their mix depending on the product lifecycle and their overall product portfolio.
In conclusion, value and innovation are viewed purely from customer perspective with a clear intent to support customer's business strategy while leveraging technology trends.