Ok, folks, the title of the post and the picture are a dead giveaway, aren't they? Yes – the picture is stark and clear to everyone except Miss.Piggy! And, oh, I forgot – Old MacDonald who owns her thinks that the picture, while not perfect, can still be improved. And he has put hard-earned money on the table for yet another shot at agile.
But first, what is "remedial agile"? Consider the sample scenarios below:
After significant investments over several years, the organization in question has not seen any noticeable improvement in parameters like time-to-market, stable releases, product quality, people motivation and so on
The organization has dispensed with all their consultants and external coaches for agile adoption (may be summarily!) and things seem to have considerably regressed since
Associates have become jaded, having seen many "waves" of agile adoption and a parade of consultants over the years
"Too much process" and "no excitement at work" are often heard during exit interviews of associates
Customers and partners are commenting on the poor state of agile adoption which is dragging them down as well
So, the organization has begun to feel that it is time to hit the pause button and think "remedial". And they have now come to you as the Man Friday consultant to help them with what ails and how to fix. While the opportunity is a windfall for you, you are in two minds – accept or turn down the assignment – given the above picture of Miss.Piggy. So, how would you go about making the decision? Here is a possible approach: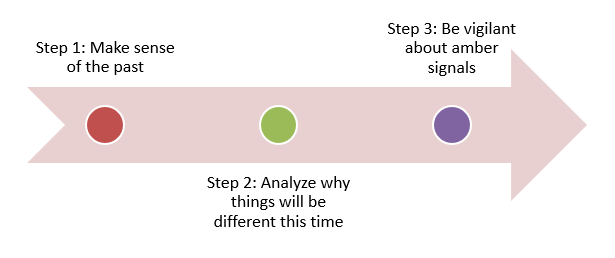 Step 1:
Engage with Old MacDonald (say, the CEO) and others to find out the major fault lines and contributors in the earlier 1.0 initiative. True, the reasons for a major transformation journey getting derailed are typically numerous, complex and likely to persist. But this historical aspect has to be investigated and investigated hard if you are going to stake your reputation on "2.0". Possible past events to look at:
Hazy ideas about the drivers for Agile in the first place
Lack of / departure of leaders and business sponsors who carried the courage of conviction
Strong pushback from middle management layers resulting in leaders not wanting to "rock the boat too much" (developing cold feet at the specter of losing key people and adverse business consequences)
Legacy product architecture and a mountain of technical debt proving to be too much for the organization's appetite to invest / re-craft
etc.
Step 2: Recall the Einstein Insanity – "doing the same thing over and over and expecting different results". You must ask Old MacDonald why this time around in 2.0, things will be different. Maybe Old Mac will relate a few reasons as to why, such as:
the departure of a Product Manager who was putting up passive resistance in 1.0
a now-chastened Business Owner who considered the initiative successful once the budget ran out
the emergence of a good number of capable full-time Scrum Masters etc.
Product Managers / Owners coming down to earth and actively working with teams
The vision for the next-gen product and a road map for it; the palpable excitement
…
Are the above really enough for 2.0 to succeed, you wonder. But who can really tell? By now, you should have spent time sniffing around the organization for those tell-tale things left unstated by Old Mac. With that added gutfeel, you may begin to believe that Miss.Piggy will learn and adapt to somehow become more presentable…
Step 3: Ok, so it is a GO for you to sign up for the engagement. But ongoing diligence is still required – and so, on to step 3. Step 3 is actually a kind of a vigil for the unexpected "amber signals" that may red and thwart progress (for more on amber signals, refer book on Enterprise Agility – The Five Tantras by my colleague and author Paramu Parameswaran). Here are a few examples of such amber signals that you may see at different levels of the organization:
Is Agile still be viewed as a "2.0 project" with a not-to-cross budget?
Are the leaders still have not got the spirit of agile?
Is there hardly any collaboration seen at leadership levels?
Have there been any changes at all in HR and in other supporting functions?
Is control-oriented management style still the norm?
Are basic agile practices in planning and tracking not yet stable in many teams?
Are individual heroics saving the day in meeting commitments (and heroes being celebrated)?
etc.
Yes – the organization is indeed paying you to help with the above amber signals but you need to bear in mind that it is not just hard work for you; a strong backing for your proposed remedies (including some surgical ones) is a must from the organization. This needs to be clearly understood and honored between Old Mac and you.
To conclude, I have tried to abstract certain patterns one is likely to encounter in remedial agile but that is not easy given the variety of circumstances and contexts driving the need for it. Hence, one can only provide some broad contours on how to approach it as a consultant. That's what I have attempted. Hope it triggers some more thoughts for you.
As always, look forward to your views on remedial agile and your experiences as an actor in it.