PM Power's first-ever CXO Meet on March 5th, 2020 focused on the theme of 'Driving Business Agility – Managing new paradigms of doing business'.
The event hosted an exclusive gathering of 30+ executives from the CXO community across industries like Banking, Financial Services, Automotive, SaaS…. and functions like delivery, sales and marketing.
Over the last 14 years, since inception, PM Power has been a platform to enable professionals to come together, be on their own – but not alone. This platform has, over the years, enabled teams and organizations to chart out and progress on their journeys of delivery excellence.
J Veeraraaghavan (JV), one of the four co-founders kicked off the evening's proceedings by sharing the core PM Power values of paying it forward, respect for every individual, integrity and continual learning.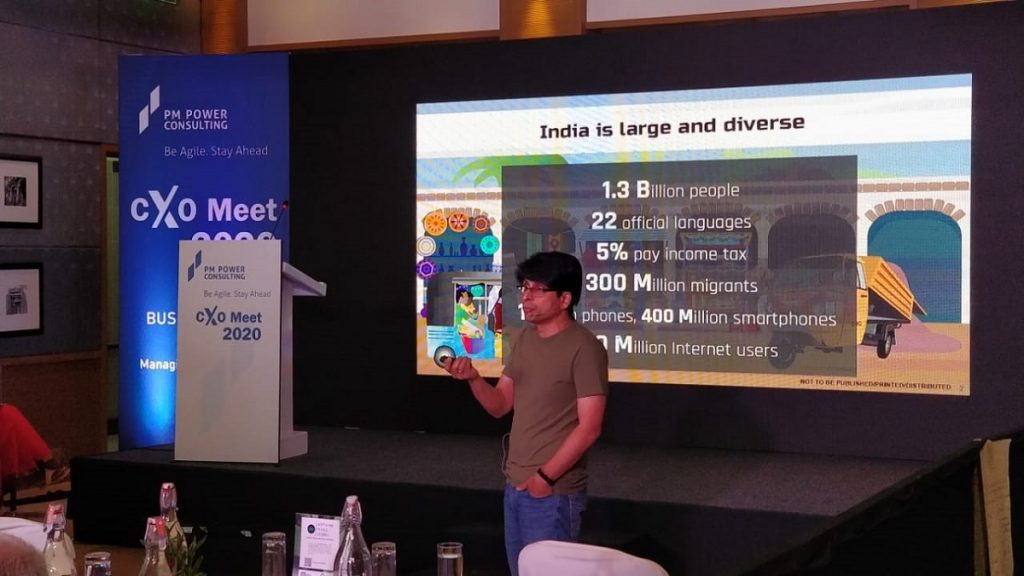 The context of Business or Organizational Agility was brought out very impactfully by Dr Pramod Varma – the chief architect of Aadhar and the India stack. While all of us have been beneficiaries of the Aadhar initiative, the thoughts that went behind making it simple and scalable were insightful.
The scale of the impact that has been created directly in providing unique identities for individuals and by extension, by the ecosystem of other applications such as for financial inclusion enabling digital payments is unprecedented anywhere in the world. In the area of financial inclusion, what was projected to take about 46 years, was achieved in 6 years and has become a role model for many other countries, though they have not been able to replicate the impact of the success.
Having some core philosophies as guiding principles helped create a level playing field and open up innovations to happen in parallel. The message was to think big, think ecosystem and engage all stakeholders.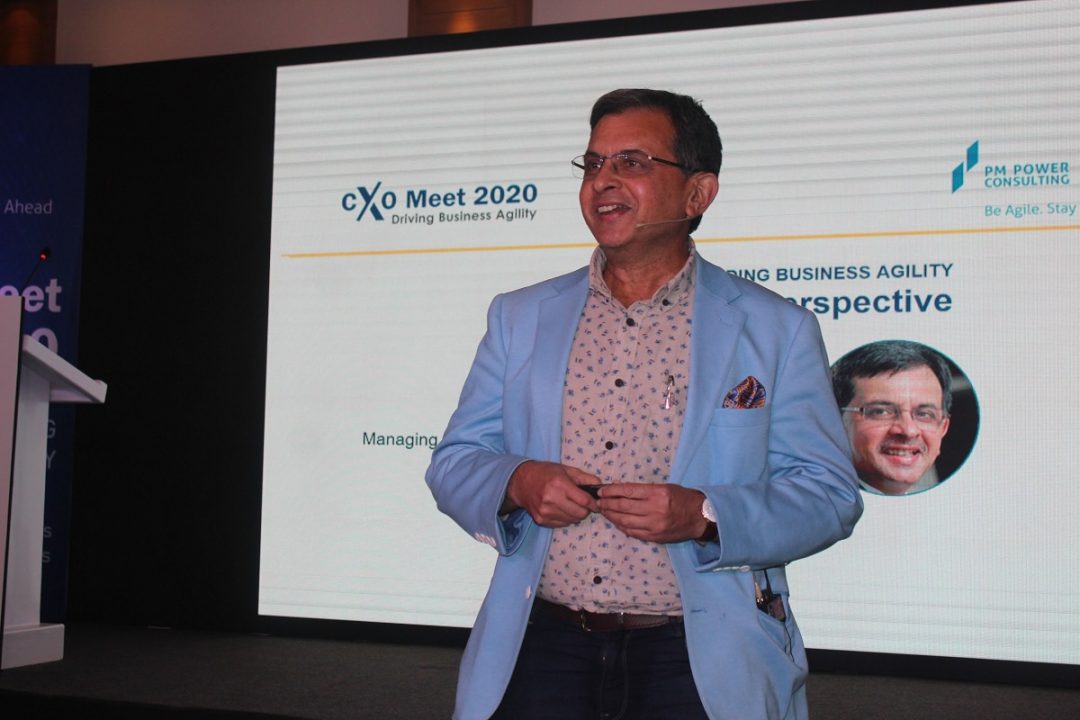 The second invited speaker, J Suresh – gave a reason for technology to exist. To enable business success. While he was modest in claiming that he is not a technologist, the higher-level architecture he had shared was relatable to IT folks.
That IT needs to be focused on the customer experience and enable all functions in the organization to be aligned and productive was explained through the analogy of a kirana store, that is responsive and flexible.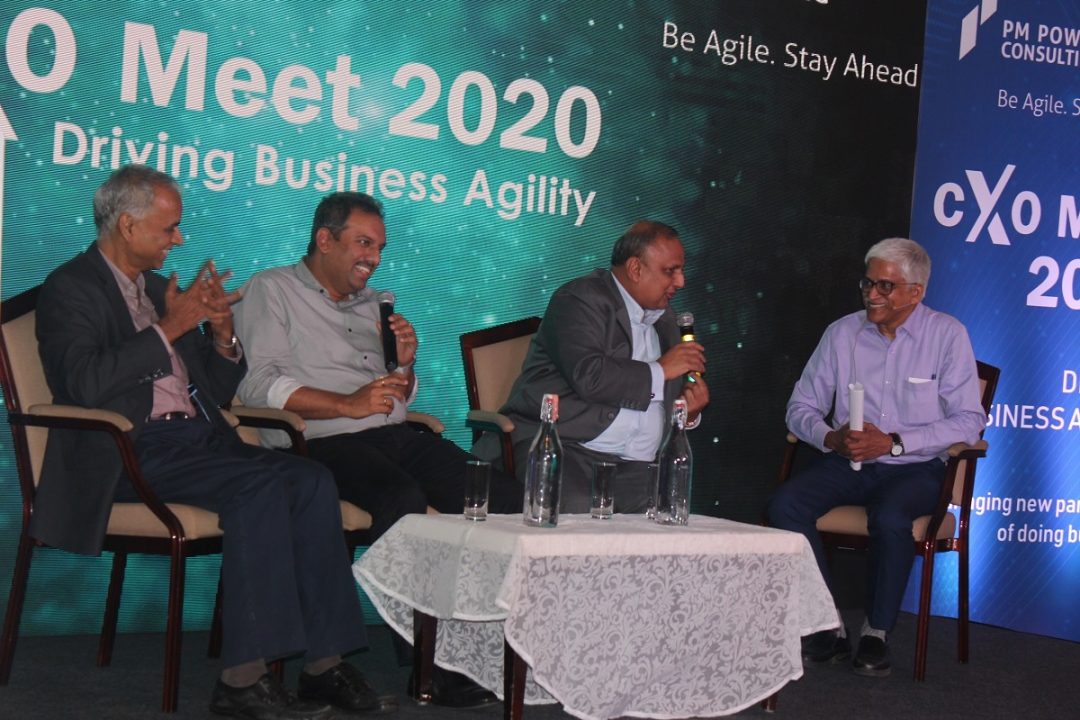 The panel discussion explored the three themes of Innovation, Culture and Scaling with respect to Business Agility. The panelists included V.R. Govindarajan, Co-founder and Director of Perfios Systems, Ajeya Motaganahalli, Head-SPS India Honeywell, S.V. Venkataraman, MD-ANZ Banking Group. With their experience in their own careers covering a platform solution that has the largest share of that segment, encouraging new ideas through accelerators and a business aligned IT team that is always looking out for innovative ways to help the business – their perspectives both converged as well as diverged, as, ultimately, there is no one size that fits all when it comes to business agility.
Some of the techniques that were shared included: two-pizza teams, ownership of results with flexibility of work locations and timings, building teams that take pride in what they create and always push the limits, ensuring a strong induction followed up with mentoring – to help team members understand and empathize with the business.
As one says, the one universal answer to any agility related question is 'It depends'.. ☺
The panelists made the discussion lively through their orthogonal points of view that only added to the collective body of knowledge around agility. Their perspectives on handling multi-generational workforce showed that agility is about (1) custom-making an organization's cultural fit (2) a mix of embracing and selectively discarding/un-learning by freshers & experienced folks and more, rather than taking a one-size-fits-all approach.
As JV summarized, the objective of the event was to sensitize CXOs on the dimensions they can personally influence and contribute to, in making their organizations agile. This event was also meant to seed the idea of having a more structured platform for CXOs to share and learn together.
There was a call to CXOs to contribute and participate in channels that PM Power already uses to engage and enrich professionals such as the Newsletter, Blogs, Delivery Challenges typically faced by many teams – as CHOWs – the challenge of the week – or, more recently, the Software People Stories Podcast.
If you are a CXO, you are invited to be part of the community.
If you are an aspiring CXO, please share this message to the CXOs you know – and hope to see you also soon as a CXO in this group!
If you play any other role, please reach out to be part of the other informal communities that we have had over the years.