The covid-19 pandemic and the lockdown in many countries was a significant disruptor to BAU. In this chaotic time. This was also a great opportunity for creativity, discipline, and empathy. These notes, collated from the experiences of various professionals from multiple industries can serve as triggers for everyone to chart their own ways of being agile, even in turbulent times.
As the countrywide lockdown started, our podcast Software People Stories featured a special series of episodes from coaches and practitioners on aspects related to working from home. These were more from the perspective of individuals.
With more than three weeks into the lockdown, we wanted to understand how organizations sensed this crisis, how they focused on immediate action and how they are beginning to respond to the uncertainties.
This study would not have been possible without the inputs shared by various individuals. Many of them preferred to share their personal perspectives and preferred to remain anonymous.
Those that permitted their names to be mentioned are:
S Gopalan – MD, Global Automation
Manish Dave, APAC Head – IT Security, Compliance & SAP Authorizations, Lafarge Holcim
Sanjaya Rao – wNy ConsultingMinds

Celebrity Chef Abhijit Saha, Avant Garde Hospitality
Chef Vikram Udaigiri – EarthisticAgro and FoodSenseGlobal
Gautham S – Senior Program Manager for Transitions, a global IT Services company
Rakshit Ramesh, Small Business owner
Gautam Valiveti, Head of design and production, SME manufacturer
---
The Context of the study
The inputs for this study came primarily from the IT industry. Manufacturing, Retail and service, automotive and hospitality segments were also considered, to understand and explore opportunities for learning that are cross-industry.
The inputs gathered were clubbed under three major phases.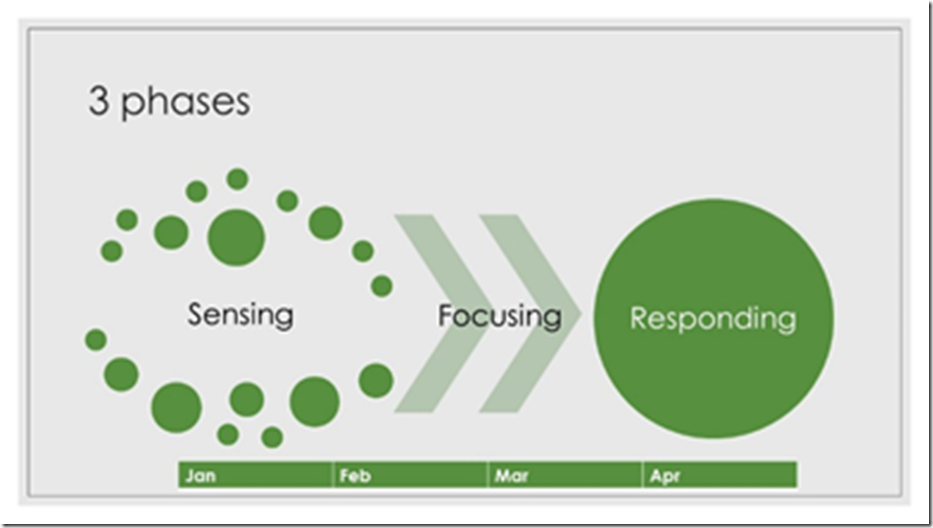 While the news of the virus started emerging towards the end of 2019, most organizations started firing their action plans for the situation by late January.
Through February and early march, some of the larger organizations started tracking global and national developments closely and started making plans. We call this the sensing phase.
The next phase, we call the focus phase, from late February to early April is when organizations needed to take immediate action and realign practices or start rethinking operations under the uncertainties of the lockdown situation.
With the refinements in the ways of working, where they could, to pausing and reflecting when they could not, the responding phase is still emerging with a renewed hope of facing the future with confidence.
The study identified many good and innovative practices and approaches taken by various organizations and teams. Over 45 patterns are captured in the study report. If you would like to receive a copy please request at this page . We hope that these would give you insights and act as triggers to tweak your own strategies.
The summary of the findings were these seven lessons:
While the preparedness of organizations varied across scales of geographical operation, industries and size of teams, the following 7 lessons are useful not only during crises, but also in better times. They are:
LESSON 1 Watch the environment for signals
· This includes not only signals within an organization such as people and operating parameters, but also the connected ecosystem outside, such as industry peers, competitors, cross industry developments
· There are formal techniques such as Sensemaking, PESTLE etc that can
help
LESSON 2 Get everyone on board
· At times of uncertainty, it is critical that everyone on the bus, intends to travel to the same destination
· Alignment to the purpose of the organization makes it a lot easier to focus on the immediate and longer-term actions
LESSON 3 Reinforce core values
· When there is confusion, and no precedents, it helps to stay grounded with the core values of an organization
· When in doubt, these are non negotiable
LESSON 4 Build individual Agility
· Dispersed teams require extreme levels of agility, that is enabled by every individual taking ownership of outcomes and be able to make decisions with autonomy and trust that the organization would back them up
· The three rules of US Marines to follow, when plans break down.. Keep moving, take the high ground and stay in touch [with your buddies or base] – applies very well in these situations, where every individual may need to be an E-shaped individual and rise to the occasion
LESSON 5 Enable Empathetic mindset
· Empathy and mindful actions help understand oneself as well as those around, be they family or colleagues as well as the organization – to think lean, think impact and focus on conserving cash and reduce cost
· Empathy for customers and their pressures and aspirations help strengthen relationships, particularly in times of crisis
LESSON 6 Time to innovate
· Such empathy can also be effectively leveraged to solve not only today's challenges but also what the customers would need in the unknown and uncertain new models of the world
· It is said that excellence race car drivers overtake around bends, when many others may slow down.. encourage experimentation and innovation
LESSON 7 Rework team norms
· Old rules and ways of working may not work any more
· Letting teams figure out and define their own ways of working, under the overall organizational framework will enable greater collaboration, creativity and contribution
Interestingly, the LESSONS 2 to 7 also resonate with the 5 organizational agility values described in the PM Power values for organizational agility – which will be in a soon to be published book 'Five Tantras of Organizational Agility'
If you are interested in some back stories, that did not find their way in detail in the report, listen to the special episode of Software People Stories
If you have your own stories to share, do let us know.