An advantage of considering Design Thinking as an Innovation LEVER is that it clarifies what Design Thinking actually is – and what it is not.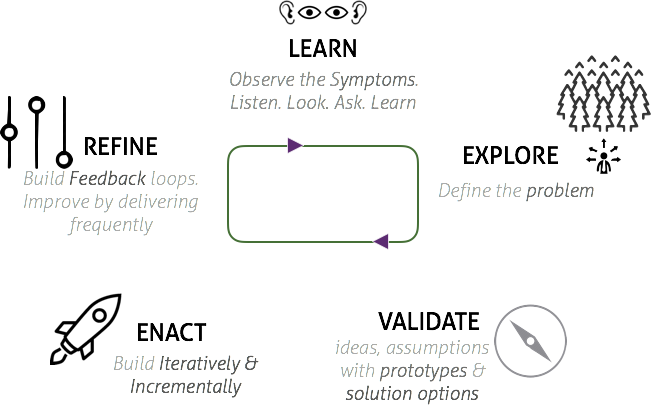 Design Thinking provides a structure – for individuals and teams to look closely at challenges, understand the problem before moving to create a solution. Hence, practising Design Thinking will also need tools and skills required to use the structure effectively.
Each step of creating a response has tools that have been used for ages. Tools for research, for generating ideas, to validate assumptions and to build solutions incrementally while getting constant feedback.
Effective use of this structure requires multiple skills – a strength that only a poly-skilled team can bring in. It is critical to build facilitation skills for effective collaboration across teams and stakeholders with these skills and knowledge.
Without these tools and the collaboration skills, the structure that Design Thinking provides will end up being procedural – risking Design Thinking being tagged as a fad.
In subsequent posts, I plan to write about:
The relevance of Design Thinking, Agile and DevOps in the lifecycle of businesses (are they the Three musketeers of innovation?)
Challenges in looking for and creating innovation when teams are distributed.
Introducing Design Thinking in to teams – and in existing environments.
I will greatly appreciate you writing and responding on this post – to further me on the learning path.